Sunglasses with polarized lenses do more than just block UV rays. They stop the light rays reflected by your environment (floor, windshield, etc.). Result: your vision is clearer and you gain comfort ...

Special glasses not to be dazzled.

Effective protection against UV rays, polarized lenses avoid you more than be dazzled by the reverberation effect of light. Your visual comfort is significantly improved! These models are of course available in corrective version for your sight.

But how do these glasses work? At the time of manufacture, these sunglasses are equipped with a polarizing filter directly inserted into the material. This element stops "polarized" light rays, ie all the rays reflected via a flat surface: wet road, windshield, body of water, etc...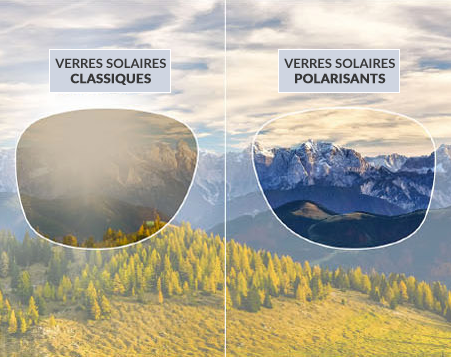 A real asset to better see outdoors.

The advantage of these glasses is reflected at the visual level: the colors appear more clearly and the contrasts are reinforced. Your sight is less tired but above all, you see more clearly and better perceive the depth and the reliefs.

Sunglasses with polarized lenses are particularly suitable for driving. Outdoor activities in general and water sports are easier with these treated solar lenses. In the city, their use is a real comfort.

1- How to choose the right protection?

The protection category ranges from 0 to 4. For normal situations of sunshine, category 3 is sufficient. But for the mountain, do not hesitate to adopt the category 4, whose glasses often equip the glasses "glacier", but they should not be used to drive.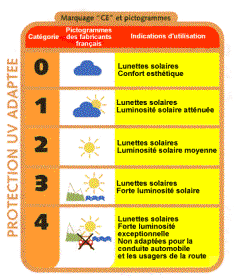 2- Blue-block lens technology:

With a very slight amber shade of class 1 they protect the eyes from the harmful light of computers.:

Benefiting from the latest technological innovations, Blue-block lenses selectively filter light by eliminating harmful blue-violet light and UV, to prevent early aging of your eyes.


3- Driving Lens Technology:

They improve both contrast and terrain without altering our appreciation of distances.

Anti-reflective treatment on our Driving glasses is especially recommended. In night driving, they reduce dazzling sensations and suppress parasitic images.

In case of extreme discomfort at night or when there is fog, you can opt for glasses with a very slight yellow shade of class 1 which increases the contrast.