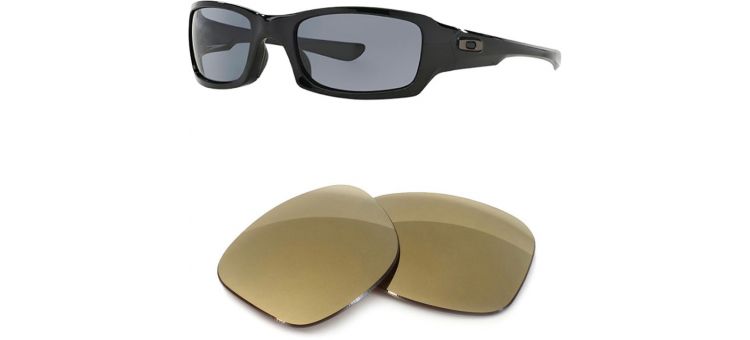  
Compatible lenses for Oakley Fives squared
Oakley Fives squared Compatible lenses 
Optique distribution manufactures clip-on sunglasses and compatible lenses for optical frames & sunglasses.
The lenses are designed precisely and fit perfectly to your Oakley Fives squared model frames. Each glass has several advanced optical features to protect your eyes, reduce eyestrain and see with the greatest clarity:
- Polarized lens technology that suppresses glare and prevents visual fatigue.
- The mirror coating optimizes the ambient light and the eyes of the wearer are hidden thanks to the mirror effect.
- All lenses filter 100% UV and surpass ANSI Z80.3, ISO 12312-1: 2013 and AS / NZS 1067: 2003 impact resistance standards.
- The hydrophobic treatment of Changermesverres.com ensures that the surface of your lenses remains clear.
** The purchase of glasses does not include the frame **
Disclaimer: Changermesverres.com and the logo are registered trademarks of Optique Distribution. Oakley trademarks are only used to describe these products. Oakley is not affiliated with Changermesverres.com nor does it support, sponsor, promote or otherwise associate with any of Optique  Distribution's products.
1 pair of lenses - Precise fit and fit guaranteed 

Oakley Five squared 

Polarized lenses reduce glare, enhance contrast and provide 100% UV protection.
Resistant to impacts. Complies with ANSI Z80.3, ISO 12312-1: 2013 & AS / NZS 1067: 2003 standards
A 1-year manufacturer's warranty and a 60-day money back guarantee.
An extra-soft cover of changermesverres.com is offered with every purchase of glasses or clip.

WARNING : 
Changermesverres.com is a registered trademark of Optique Distribution.
The lens glasses or clip-on are compatible with different brands of glasses.

Optique distribution is not associated with the brands:
*Oakley, *Ray-Ban, *Rudy Project, *Persol, *Moscot, *Oliver Peoples, *Paul and Joe, *Barton Perreira.
 
Any use of these branded marks is only intended to describe the product.
* These brands belong to third parties, not related to Optique distribution.
Data sheet
Manufacturer

Optique Distribution

Compatible glasses model

Oakley glasses

Light Transmission

16%

Polarized

Yes

Polarized lens

Lenses material

Protection

UVA, UVB & UVC, Exceeds ANSI Z80.3 and EN 1836:2005 Standards

Impact Resistance

Yes

Water repel

Yes

Dust repel

Yes

Shatterproof

Yes
Reviews about this product

Show attestation
9.8/10

Based on 12 reviews
Parfait

Merchant's answer

Bonjour Lucile Merci pour vos commentaires , Ravi que cela vous plaise

Parfait !

Merchant's answer

Bonjour Sébastien Merci pour vos commentaires , Ravi que cela vous plaise

Coupe parfaite s'emboite tres bien dans la monture

Merchant's answer

Merci Stéphane pour votre confiance

Verres dont le rendu et la qualité n'ont rien à envier aux originaux !

Merchant's answer

Merci STEPHANE pour votre confiance

Belle qualité.

Merchant's answer

Bonjour Sylvain Ravi que vous puissiez donner une seconde vie à vos lunettes, c'est un petit pas pour protéger notre planète !

Mieux que les verres originaux, trois fois moins chers

Merchant's answer

Merci Erwan pour vos commentaires , Ravi que cela vous plaise

Livraison rapide et conforme. À recommander.

Merchant's answer

Merci Yann pour votre avis

ss

Merchant's answer

Bonjour Cédric Merci pour votre recommande Merci également a ESSILOR pour nous avoir Développé cette technologie Made in France

Très bon rapport qualité prix je recommande ce site

Merchant's answer

Merci pour votre commentaire ! La satisfaction de nos clients est notre priorité !